Introduction
Effective investigations and Corrective And Preventive Actions programs (CAPA) are essential (if not existential) to companies in the Life Sciences industry whose responsibility is to ensure patient safety, quality, and regulatory compliance while maintaining high operational productivity.
However, the desire for speed can sometimes override the pursuit of quality, and the stress of meeting day-to-day operational needs can detract from the necessary focus on continuous improvement.
This often results in a disconnect between what companies are actually doing relative to what their SOPs say they should be doing.
High Quality investigations
We empower our clients to conduct and document superior investigations so they are always FDA-ready, enable strong cross-functional collaboration, and can focus more of their resources on continuous improvement.
Because every organization we work with has its own unique set of circumstances, we tailor our approach to meet each company where they are at in their maturity and design solutions based on the desired level of impact our clients wish to see.
KT enables companies to conduct both faster and higher quality investigations through providing a data-driven system for problem-solving that minimizes wasteful guesswork, standardizes documentation, and finds true root cause so deviations do not resurface.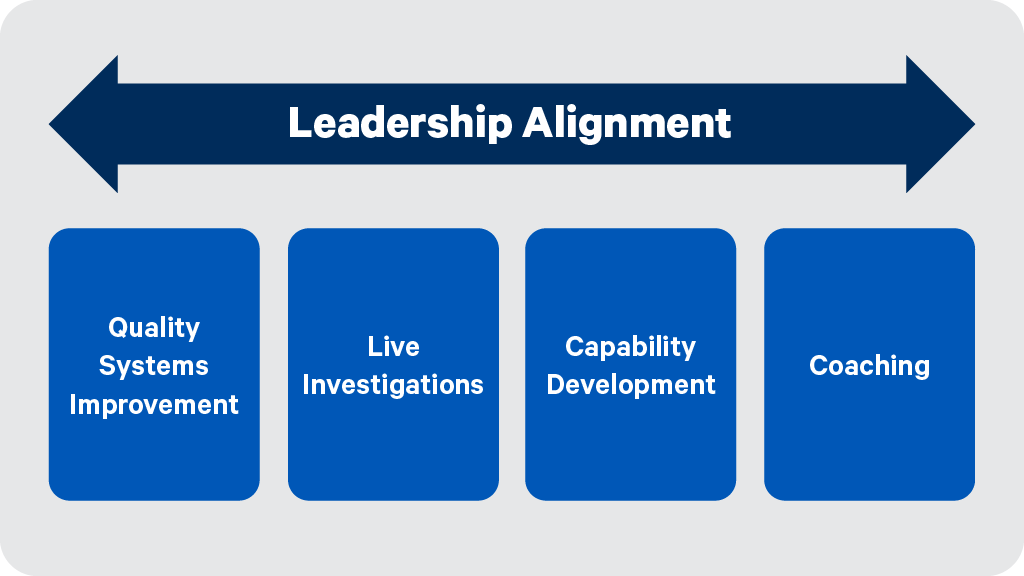 Leadership Alignment


Changing an organization's problem-solving culture and countering the "we've always done it this way" mindset is simply not possible without the active sponsorship of leadership. Our Executive Leadership Workshop is designed to be the first step before implementing any initiative with KT, because it aligns decision-makers around the challenges their business is facing (whether at a global, regional, or site-specific level), the necessity of prioritizing critical thinking as a core competence, and how KT ought to be deployed strategically to achieve results.
Executive Leadership Workshop
Quality Systems Improvement
Driving transformational change requires alignment between "how people think", "how work gets done", and "how knowledge gets utilized". Ultimately, our mission is not to just make individuals expert problem solvers but build organizations that have a culture of cGMP problem-solving excellence. This requires that effective practices for conducting investigations are supported by equally effective operating procedures and workflow tools for documentation. None of these should be antithetical but should rhyme like poetry. The combination of analytic expertise, process mining technology, and our structured methodology affords us a unique superpower to diagnose the health of your operations, generate insights you might never have known, and design improvement solutions that generate long-term systems improvement.
Live Investigations
Sometimes, even subject matter experts struggle to see the forest for the trees and suffer from confirmation bias. When a critical deviation or nonconformance occurs with major impact to quality, production, and/or safety, time-to-remediate is critical. KT can parachute in its experts overnight to provide immediate "investigation life support". We navigate you through our structured methodology to the extent required to ensure focus on the right problem statement(s), identify containment measures as necessary, separate facts from "expert opinions", gather missing data, eliminate false theories, and narrow down an evidence-backed most probable cause.
Capability Development
We build problem-solving and decision-making capability across all functions of an organization, from production operators to senior quality engineers to executive leadership. We tailor the degree of capability development delivered based on the work skills people need to cultivate at their appropriate level to be effective in their job and do so using an agile mix of self-paced, classroom, and dynamic simulation-based experiential learning. Programs encompass strengthening daily systematic problem-solving, complex root cause analysis, CAPA implementation, Continuous Improvement, and three tiers of advanced expert certifications.
Coaching
In conjunction with capability development, we mentor individual contributors, management sponsors, and leaders to ensure new skills translate to measurable outcomes. Coaching spans from helping individuals build KT vernacular into their daily work to co-piloting the application of KT methodology on operational and strategic projects to empower those involved to build confidence in their ability to execute KT problem-solving and decision-making processes.
Resources
Find out more helpful resources:
KT Results Highlights
Focused disciplined investigations:  A global biopharmaceutical company reduced year-to-year Quality investigations by 33%
Supply Chains protected:  A global vaccine supplier isolated the cause of a multi-million-dollar bio-burden deviation within one week, keeping critical supply chains moving
Back-to-business: A client's consent decree was resolved within six months through the application of KT technologies
Warning Letter closed: In response to a 483 citing insufficient RCA investigation practices, KT helped a specialty medical device company standardize a new standard operating procedure
Recall mitigated:  KT Problem Analysis identified the root cause of a medical device strip experiencing separation issues, solving a $1.5 million problem