KT Welcomes Winners from over 20 Countries to New York City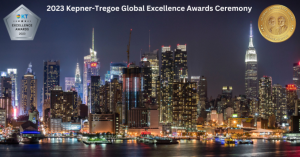 [PRINCETON, NEW JERSEY, May 9, 2023] Kepner-Tregoe (KT), the global leader in critical thinking skill development is hosting its 2023 KT Excellence Awards Ceremony on July 28th at the Millennium Hilton Hotel in New York City.
For the past 27 years Kepner-Tregoe has honored individuals, teams and organizations around the world who have demonstrated mastery in the implementation and use of rational processes. The objective of the KT Excellence Awards is to provide a visible recognition and historical record of the people and organizations that have achieved outstanding results and are "the best in the world" in their category.
Kepner-Tregoe congratulates the outstanding winners of this year's KT Global Excellence Awards and looks forward to seeing them at the ceremony!
Award Winning Companies:
Adient, Akamai Technologies, Inc., ASML, Astellas Pharma Inc., Bravura Solutions Limited, Canon Marketing Japan Inc., Cisco Systems, DBS, Durag GmbH, Hamburger Rieger GmbH, ExxonMobil – Imperial Oil, Fieldpiece Corporation, Flextronics Plastics S.a. De C.v., HCL Technologies, Honda Motor Co. Ltd., Hitachi High-Tech Corporation, IBM, Johnson & Johnson, Lam Research Services, Leipa Georg Leinfelder GmbH, Nissan, Nokia, NS BlueScope Malaysia Sdn Bhd, Organon Asia Pacific Services Pte Ltd, Philips Healthcare, Resonac Corporation, Rio Tinto, Shaw Industries, Inc., Siemens AG, Suncor Energy Services Inc., Takeda Pharmaceuticals, Tenaga Nasional Berhad, Tetra Pak Packaging Solutions S.p.A
Click here for more information about the
KT Excellence Awards and winners
Kepner-Tregoe is a global consulting firm that offers swift solutions to complex problems and enhances system performance through advanced technologies for prioritization, decision-making, and problem-solving. For over 60 years, KT has delivered superior service leading to increased efficiency, quality improvement, and cost reduction. Our best practices are utilized by nearly all Fortune 100 companies.