What is the Kepner-Tregoe method?
Kepner-Tregoe (KT) isn't a single method, matrix or template!
KT consists of 4 main "processes" that add structure to the way we think, ensuring that we take a rational approach using facts, rather than relying on assumptions and gut feelings.
Situation Appraisal: Clarifies complex situations & issues, helps you to prioritise and create an action plan
Problem Analysis: A powerful root cause analysis tool
Decision Analysis: Ensures complex decisions are made rationally, weighing all the considerations and facts
Potential Problem Analysis: Helps to manage risks and mitigate the effects if things do not go to plan
Where does Kepner-Tregoe come from?
Benjamin Tregoe and Charles Kepner were originally researching the way our minds work – how we solve problems and make decisions. They were interested in the factors that make someone a good problem solver, for example. They formulated an approach that attempts to emulate the thought patterns of someone with excellent problem solving skills.
They then realised that this was actually pretty powerful and that they could train people in applying these methods. And the rest is history! More details about our company can be found here
What makes Kepner-Tregoe training different?
The quality of KT training is what keeps our clients recommending us and coming back for more. Our trainers follow a method called "systematic teaching" which begins from awareness and leads to mastery through practical application.
There is only a small amount of presentation to introduce the concepts. Participants work in groups to practice using the KT processes on case studies from our library, as well as any real-life issues or examples they bring with them. The hands-on, interactive approach ensures that you walk away with practical problem solving skills that you can start applying right away.
Clients have told us that KT "rewired their brain"!
Find a public course in the UK or Ireland and come and see for yourself!
Start improving your problem solving skills today
The fastest way to speed up troubleshooting is to ask the right questions. In this 2-minute video June's car won't start. The solution is simple, but lack of questioning skills leads to chaos!
For a more in-depth introduction to complex problem solving, watch this 25-minute webinar: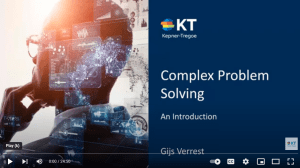 The New Rational Manager
Originally published in 1965, this essential business book by Charles Kepner and Ben Tregoe has enduring appeal: in a clear, readable style it introduces the KT processes and provides short case studies to explain how they can be applied in real life. You can download the introduction here: