Client
Established in 1912 with key activities in Engineering, Construction and Integrated Facility Management, a Singapore-listed corporation's strong track record and end-to-end capabilities from Design, Build and Manage has given it a competitive edge in today's business. As one of the first listed companies in Singapore, the company today has more than 5,000 employees and operations in about 12 countries across the Asia Pacific region.
Challenge
Under its property development subsidiary, the company continues to contribute to Singapore's urban landscape by building some of the more iconic structures and residential condominiums. A recent project was a mixed development comprising of a multi-story condominium and hotel as well as a retail podium. Given the strategic and iconic nature of this development, it was singled out by the company's senior management for KT to provide project management support. The underlying intents were to embed robust project management practices that govern the construction of the iconic project; and in the longer term, develop a customized model that can replicate success at other project sites.
Collaboration
Underpinned by KT's Sustainability Proposition model comprised of Capability Transfer, Process Integration, Performance Support, the company and KT collaborated to improve the iconic project via:
Based on pre-determined criteria, identified key personnel as Internal Process Drivers who were groomed to drive improvement effort.
Internal Process Drivers underwent customized training in Project Management, Issue Resolution and Performance System.
Identified causes of bottlenecks and thereafter devised corrective actions (e.g., Technical Drawing Process).
Developed guidelines for three level-down WBS detailed project planning which formed the basis for Perfect Week Management.
Scanned project implementation during Milestone Management to pin-point potential areas of concern and thereafter proactive resolutions through Perfect Week Management.
Established a Subcontractor Selection and Risk Management Matrix.
Established an Interface Model that supports coordination among Structural, M&E, Architectural and Curtain Wall works focusing on Perfect Week, Milestone Management, Visual Factory and Technical Drawing Process Optimization.
Established protocols and measurement systems to track project progress and performance that aided management in making fact-based decisions.
Reduced conflicts among stakeholders, usually involving Main and Sub-contractors, M&E, Architects, etc., by providing a process for cooperation, communication and issue resolution.
Results
Reduced construction delay by up to 56 days over an 11 month period
Shortened structural construction cycle time for typical floors (from 11 to 9 days within 3 months)
Improved productivity of M&E works:
200% for first fix above ceiling
63% for ceiling clearance
Shortened Concrete Body Plan (CBP) processing time by 72% (from average 58 to 16 days)
Improved Monthly RFI average count by 60% (from 33 to 13 incidents)
Reduced % RFI reply took standard 7 days (from 35% to 29%)
Improved VO approval duration by 33% (from 179 to 130 days)
Kepner-Tregoe Project Management
Kepner-Tregoe Project Management combines the technical and people skills that are fundamental for effective project management. Its practical, step-by-step approach results in the successful management of projects, regardless of size or complexity. Drawing on its proven processes for problem solving and decision making, risk management and human performance, KT Project Management provides the capabilities needed to bring construction projects in on time and within budget.
KT's comprehensive method and intervention for strengthening the project management expertise in organizations in the construction industry consists of four distinct phases: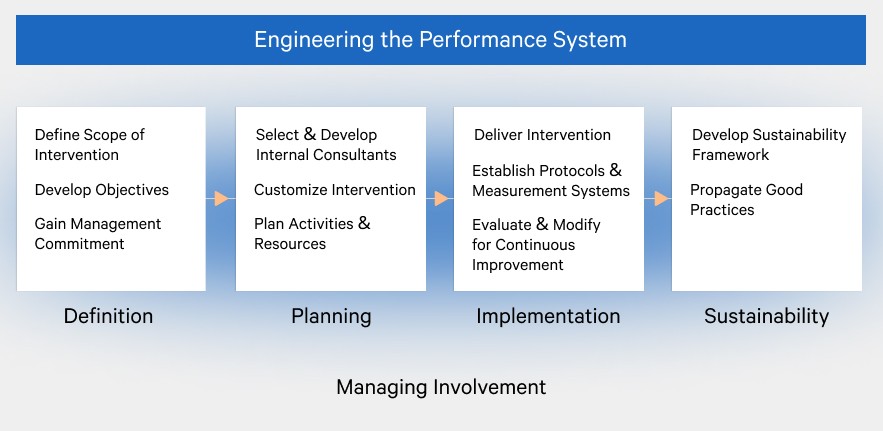 KT Project Management also addresses the factors that can promote project performance and influence project behavior. Our approach to engineering the performance system and managing people involvement can be used to support teamwork and gain commitment to the project.
Client List From Construction Supply Chain
Some of our clients in the construction supply chain who have benefited from KT process driven project management are Ann Joo Steel, Axis Identity Group, BlueScope Steel, BlueScope Lysaght, Cement Australia, Greatearth Construction, Keppel Shipyard, NatSteel, Paramount Property Development, Pruksa Real Estate Thailand, SCG Building Materials, United Engineers Limited, just to name a few.