Client

Microsoft's Customer Service & Support (CSS) organization empowers, helps and advises customers to get the most out of Microsoft's products and services around the world, offering support in 41 languages and 191 countries. With 8 billion customer touches annually across assisted, virtual, and community support forums, CSS's technical experts and customer service professionals have unique insights into how customers use products, services and devices which is translated into customer-driven improvements across Microsoft's offerings.
When CEO Satya Nadella took the helm at Microsoft in 2014, he instituted a "Growth Mindset" strategy, emphasizing the importance of a cultural obsession with customer satisfaction and a commitment to lifelong learning. Since then, the value of the company has nearly tripled, and CSS has partnered with Kepner-Tregoe (KT) to better serve customers by embedding KT processes, the "gold standard", in issue resolution. Beginning with a combination of training and application-focused coaching, Microsoft is integrating the KT methodology into CSS systems and metrics worldwide.
The Project
Microsoft asked Kepner-Tregoe to help implement KT's suite of rational processes to enable their engineers and advocates to successfully sort, clarify and prioritize issues, find the root cause of customer problems with accuracy and speed, make decisions on best next steps, and minimize future customer concerns. KT provided a consistent and repeatable approach to help CSS solve customer problems more effectively and efficiently, aligned to Satya's strategy of developing a customer obsessed culture.
Primary Goals
Reduce DTS (days to solve)
Reduce TMPI (time minutes per incident/net effort)
Improve customer satisfaction
Improve team collaboration
Drive customer obsession mindset
Drive world class case handling experience
Initial Results
To measure the impact of the KT training and support project for CSS customers, key metrics were recorded 12 weeks before the workshops and 12 weeks after.
Results of total improvements during the first year:
Total DTS fell by an average of about 1 day per case
Total TMPI fell by an average of about 27 minutes per case
Customer satisfaction has improved by 3.3%
Beyond Technical Training
The KT program reinforces CSS's commitment to provide world class support to customers. Workshop participants were drawn from various support business units allowing engineers and managers to share experiences with colleagues across the business. KT training is supported by on-the-job coaching and certification as well as local management sessions to build awareness and reinforce new behaviors back in the work place.
In addition to measuring the impact on efficiency and the customer sentiment, Microsoft also tracks employee satisfaction with the program. KT workshops received a 92% approval rating from the engineers and managers who took the course.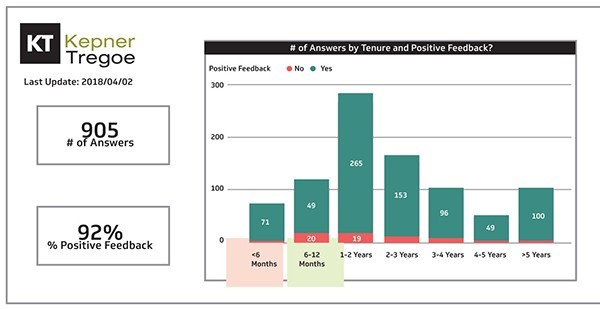 Entertaining and educative content, extremely good facilitator and trainer and a great, diverse group. We've had intense, opinionated discussions, great added value for me.

The workshop was very interactive, more interactive than any other workshops/ trainings I've attended. There was a lot of team work which is definitely a plus… got a chance to connect with people from other teams and work together.
Sustaining the Focus On the Customer
The global CSS program team is driving further improvements by sharing Microsoft case studies with KT Champions to learn advanced process application. Recognition programs in the form of digital badges, a Sharepoint site and newsletter highlighting applications of KT processes provide diverse opportunities to share KT process knowledge and insights across business units and locations.
CSS has begun to integrate KT templates into service tools to document the application of the methodology in the work-flow, enabling better documentation, communication and hand-over. This robust approach to improving the customer experience through training, coaching, integrating and rewarding the use of KT methods has been fully embraced within CSS.
By the end of the journey, more than 7,000 CSS team members will use the KT process tools to minimize resolution time, maximize customer satisfaction, and drive the customer-obsession mindset to new levels – all resulting in a better support experience for Microsoft's customers.