Kepner-Tregoe congratulates Esso for winning these well-deserved awards
Princeton, NJ – August 22, 2023
Kepner-Tregoe (KT) proudly acknowledges ExxonMobil – Imperial Oil (Esso) for winning this year's Critical Thinking in Cultural Excellence Award. Additionally, we extend our congratulations to Karine Hinton, reliability advisor, for being named Program Leader of the Year. These honors were presented at the KT Global Excellence Awards Ceremony on July 28th, 2023, in New York City.
Esso receives the Critical Thinking Cultural Excellence Award for fostering a corporate culture that consistently promotes critical thinking skill development. The Program Leader of the Year Award recognizes outstanding leadership in issue resolution within organizations.
Esso's achievement stands out among over 100 global nominations. Their "Thinking Lean Mission" enhanced critical and lean thinking skills across the organization, driving a cultural transformation. Karine Hinton's leadership elevated critical and lean thinking and significantly improved the reliability incident processes. Esso's achievement in enhancing critical and lean thinking exemplifies global excellence, earning them the esteemed KT Global Excellence Awards.
Mustafa Al-Sawabi, Integrated Program Technical Leader, accepted the Critical Thinking Cultural Excellence Award, and Karine Hinton received the Program Leader of the Year Award, both presented by KT CEO Bill Baldwin.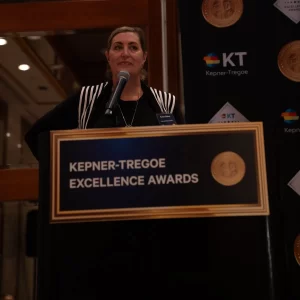 Kepner-Tregoe congratulates Esso for winning these well-deserved awards.
ExxonMobil – Imperial Oil
Imperial Oil is involved in various aspects of the energy industry, including the exploration, production, refining, and distribution of petroleum and petrochemical products in Canada. The company is one of Canada's largest producers of crude oil and natural gas. It also operates a network of retail gas stations and provides a range of energy-related services.
About Kepner-Tregoe
Kepner-Tregoe is a global leader in management consulting and effective problem-solving. Leveraging over 65 years of experience, we empower organizations to dissect intricate challenges, make informed decisions, and drive impactful change. With a proven approach and extensive expertise, Kepner-Tregoe has established itself as a trusted partner to a diverse array of Fortune 100 companies.